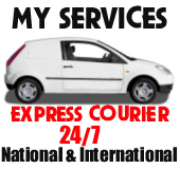 ADVERTISEMENT
About MY Courier Services
Based in Watton, Norfolk and well placed to serve Norfolk, Suffolk, and the East Anglia region.

I have a white Corsa van, unwritten.

Several years experience in the courier business both self employed and employed.

I am concentrating on smaller, urgent consignments. If it will go in the van I'm happy to take it.

National and International deliveries.

Service Types Available
Small Van