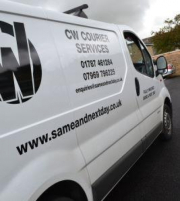 1222

Sudbury, GB

www.sameandnextday.co.uk
ADVERTISEMENT
About CW Courier Services
I can offer you a smart and reliable service 7 days a week, 24 hours a day, specializing in same and next day distribution all over the UK. I quote each job individually at what I believe is an extremely competitive rate. Urgent, important and valuable items are what we do best, Insuring that all your items get there on time and in 1 piece.

The vehicle I use for my services is a Renault Trafic (2015). I can carry up to 1100kg at a time and I can accommodate 2 standard pallets. We understand that your products / Items to be delivered are valuable to you. So we make sure that the best care is taken whilst handling and delivering. We take any thing from a letter to a full load.

If the goods won't fit in my van don't worry we have been working with reputable, local sub contractors for years and have built up great working relationships with them, so we can provide a van for any job at no extra cost to you! We charge a flat rate of £1.15p per loaded mile with a minimum charge of £30.00 (prices subject to VAT)
Using us ensures you get a personal and friendly service where you can put a face to the name. When you contact us you will be speaking to me (No putting on hold and transferring calls) and for peace of mind you have the option of being informed when your goods are in transit and on the road and also when your goods are delivered.

We have full couriers insurance. Also we have goods in transit insurance up to the value of £10,000 and public liability up to £5,000,000, so you can be safe in the knowledge that all your goods will be insured properly. Choosing us Insures that you get a bespoke personal service and you can put a face to the name. We work to your specifications.

We have a page on Facebook and Twitter where updates of where I am and when the van is empty are posted regularly. These updates are also visible via our website. This has proven handy to some of our customers. And the best part for you is that you can save money by filling the van up for a discounted #Backload. So get yourselves on Facebook and twitter and search CW Courier Services for Facebook and @CWCOURIERS for Twitter and take advantage!

Service Types Available
Car
Estate Car
SWB Transit
Small Van